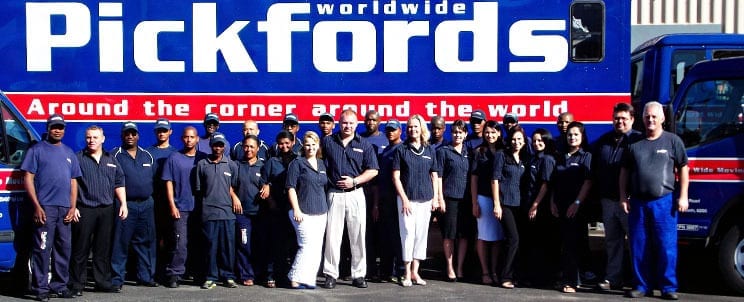 As Pickfords Port Elizabeth's team have once again scooped top honours in a prestigious industry competition, we profile the winning branch and their recipe for success.
Pickfords Port Elizabeth has no room for mistakes: the branch is responsible for the entire Eastern Cape region, and as Branch Manager Anthony du Plessis notes, the province is South Africa's second-largest.
The Eastern Cape is currently experiencing growth from its large-scale industrial developments – including the Coega Harbour, a new car assembly plant and the massive Bay West City development in Port Elizabeth.
In this competitive environment, it is rewarding that Pickfords PE is not only selected due to their national benefits, but also because of clients' favourable experiences on previous removals.
"We frequently get requests for specific team members by name – for example, a specific supervisor or packer – where clients formed a relationship with them, and insist that they have to be present on that client's next removal with us," explains Anthony.
Given the undisputed quality of Pickfords PE's staff, those sorts of requests are entirely understandable. As one example, just take their team's performance in the annual 'Packer, Porter, Loader' competition – organised by the removal industry's Professional Movers' Association (PMA).
Pickfords PE's A-Team
Anthony reveals that Pickfords PE's team competed in the latest Eastern Cape round of this competition in May, and were placed first again! Over the past seven years, this is the sixth time they've won the regional round.
A draw in 2013 interrupted their winning streak, but the team came back strong in 2014 to not only win the regional round, but win the national competition as well.
These victories are proof of the emphasis that Pickfords PE places on training, and also the unique team dynamic that they have cultivated over the years.
According to Anthony, although their winning team is relatively small – only one supervisor, packer, porter and loader – they make an effort to introduce new team members to it to give them exposure to the PMA competition.
This strategy paid off in 2015: Magdalene King was introduced as a new packer for the team – bringing with her 10 years' experience – and helped to secure the team's overall victory by winning first place in her personal 'Best Packer' category.
These regular PMA victories aren't simply competition luck either – the winning team work together on a daily basis as well for Pickfords PE's clients, assigned to the most challenging removals.
The date for the PMA's 2015 national competition is still to be confirmed – expected for July or August – but another strong performance is guaranteed. We wish Pickfords PE's team all the best!