June 24, 2015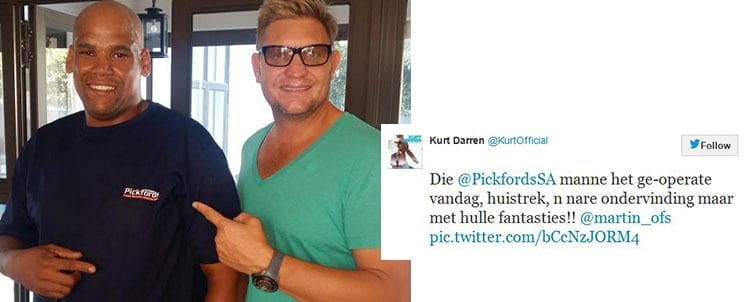 The next time you move with Pickfords, we invite you to share your great experience on social media! We often refer to the extended Pickfords family, and like all families we thrive on communication.
Over his long career serving Pickfords, Pickfords Bloemfontein's Regional Manager Martin Oosthuizen has established strong relationships with many of South Africa's most well-known celebrities.
Some of these – like Kurt Darren, who Martin counts as a close friend – frequently share their pleasurable experiences with Pickfords to all their followers on social media.
In March, for example, Kurt shared the following tweet with his 58 000 followers, even mentioning Martin (who is active on social media) while Martin was the Branch Manager at Pickfords Pretoria:

English translation: "The Pickfords SA men performed excellently today, moving house, an unpleasant experience but with them fantastic!!"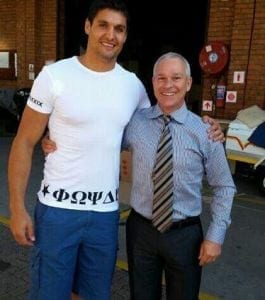 For another great example of a Twitter exchange between Pickfords and a happy client, click the photo to the left to see what happened when Springbok rugby player Juandre Kruger visited Pickfords' branch in Pretoria and was personally escorted by Martin (to his right).
The next time you move with Pickfords, we look forward to hearing about your great experiences as well! Just remember to copy in @PickfordsSA.

To receive more of these and other great stories we share, please take the time to follow us now on Pickfords' social media platforms: Facebook / Twitter / LinkedIn