Pickfords' Gauteng Hub recently strengthened its commitment to quality removals by establishing a new in-house training centre at its Johannesburg branch.
Training Pickfords' Gauteng staff to the brand's international service standards has been an on-going focus for Pickfords South Africa's Brand General Manager, Ravi Naik. Opened this August, a new dedicated training centre at Pickfords Johannesburg contributes to that goal.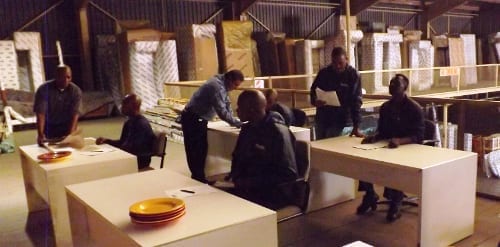 "The new training centre enables us to provide sales staff and packers' training under the same roof, ensuring harmony in their identification of clients' valuable items and the appropriate packing methods for each," Ravi explains.
"This approach will benefit our international clients – such as embassies which are well-versed in best practises and regularly move between countries – while simultaneously ensuring the same high level of care for Pickfords' individual clients' household removals."
Adding depth to Pickfords Gauteng's training is the human element, as theoretical and practical training is provided by expert trainers with over 60 years' collective industry experience. These include Branch Trainer David Sefako (29 years' experience), Field Service Officer Afzal Shahali (15 years' experience) and International Warehouse Controller, Simon Kekana (17 years' experience). 
"Going forward we're looking at expanding the training courses on offer, contributing to Pickfords' objectives of improving access to training by members of designated groups; in-house development programmes; on-the-job mentoring and accelerated training for new recruits," Ravi confirms.