This year's commemoration of Mandela Day was a significant and poignant one, being the first Mandela Day since Madiba passed away.  Several Pickfords branches embraced the spirit of the day on 18 July and gave up 67 minutes of their time (or more) in service of others less fortunate:
Cape Town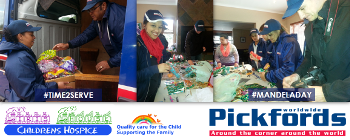 The Cape Town team really rose to the occasion, with some staff lending a helping hand at Iris House Children's Hospice prepare for their Christmas in July fundraiser – they donated various items and helped make decorations for Christmas crackers.  To find out more about the amazing work that Iris House does, click here.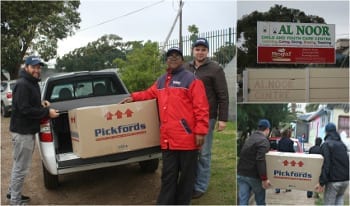 Others collected and donated clothes, which brought a lot of smiles to many small faces at Al Noor Child and Youth Care Centre.  Go to www.alnoororphanage.org.za to see what they do and find out if you can maybe lend a helping hand.
Durban
Pickfords Durban didn't have to venture far from the office to make a difference in people's lives.  The team launched a clean-up operation in the streets around the office, benefiting the surrounding community.     

Port Elizabeth
Our PE team got into the Mandela Day spirit and got involved at Missionvale Care Centre, which was buzzing with activity on the day – they helped make sandwiches, pack medication and food parcels, and even planted some onions.  The only tears around were tears of joy and gratitude!  Missionvale Care Centre does an incredible job of supporting the less fortunate community in the area – please visit www.missionvale.co.za and see how you can help.
Congratulations to everyone that took the time to honour Madiba's legacy and help those less fortunate!  We hope that next year's participation will be even better, and that we all take up the challenge to make every day a Mandela Day.