Relocating to Port Elizabeth soon?
A quick guide on things to know when moving to Port Elizabeth.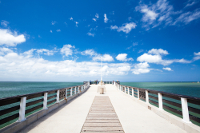 Port Elizabeth is also known as the Friendly City. Locals proudly proclaim that everything lies within a relaxed 15 minutes' drive of the airport. Still, moving to Port Elizabeth can be stressful. That's why Pickfords Removals offers specialised services to make your move as easy as possible. No matter where in the world you are moving from and whether you want to bring your goods by ship or plane. Our experienced staff will guide you through the entire moving process, enabling you to relax and meet your friendly new neighbours.
---
History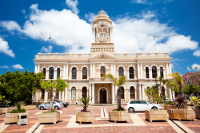 Noted as a landing place for fresh water since the 1700s and first scratched onto a map by Vasco da Gama during his epic sail from Europe to India in 1497, the second oldest city in South Africa developed in Algoa Bay during the 100 year British war against the Xhosa – composing of a meager four houses during the 1820s. By the 1860s the harbor had developed into the second largest of the Colonial cities and in 1995, Port Elizabeth held the distinction of the first city to elect a black mayor.
---
Attractions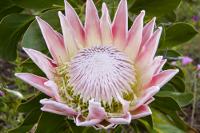 Rated by Consumer Travel as having the world's fourth best weather after San Diego and Casablanca, Port Elizabeth is the home of Ironman South Africa and is deemed to be the watersports capital of the African continent. From surfing with dolphins to whale watching and exploring the 400 shipwrecks of Algoa Bay, Port Elizabeth offers newcomers Africa's 'Big Five' and more indigenous plant species than the whole of the British Isles. Port Elizabeth also catches the eye for its relatively low crime rate, strong economic growth, major university – Nelson Mandela Metropolitan University – good schools, shopping centers and minimal traffic congestion.
---
Economy and Development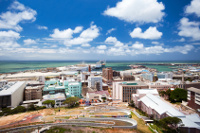 The conveyor belt of South Africa's motor vehicle industry, Port Elizabeth's assembly lines include Ford, General Motors, Volkswagen and Continental Tires. A major seaport, Port Elizabeth also provides the more significant ore loading facilities in the Southern Hemisphere. Port Elizabeth's growth is concentrated in the Coega Industrial Development Zone (in short-hand the Coega IDZ), a multi-billion Rand project which aims to drive local and foreign investments in export-oriented industries.