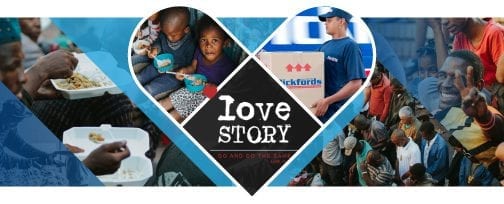 Pickfords Port Elizabeth is proud to be one of the main partners of a new campaign to collect everyday essentials in aid of the poor and marginalised in the city.
The campaign, which is organised by Love Story, a local relief organisation, will take place over the next four months.
Established in 2012, Love Story always had a heart for the homeless. They created their first soup kitchen in the city centre and within a few months they were feeding over 200 people five nights per week.
To date, they have established 20 soup kitchens that feed and service their own community members. A total average of 30 000 meals are served every month.
Pickfords Port Elizabeth is one of the main drop-off points for members of the public wanting to contribute.
The branch will also collect items from persons who are unable to bring it into the branch.
Through this campaign, Love Story aims to collect 50 cartons of goods including blankets, baby products and non-perishable food items such as peanut butter.
The campaign will run from August to November 2019 and aims to restore hope within the community.
Love Story also focusses on educational programmes and poverty alleviation.
Pickfords Port Elizabeth shares many of the fundamental beliefs which Love Story upholds: the importance of family and sowing into the community in various ways including support groups, bible studies, soup kitchens, hospital visits, volunteer participation and community revamps.
Should you wish to donate to this cause, please feel free to drop off your donation at our branch:


3 Ruan Road, Greenbushes Industrial Park (Gate 2), Old Cape Road, Greenbushes.
You are also welcome to phone Mari Joshua to arrange for collection on 041 405 7431.
Please help us to make a difference to the lives of those less fortunate.