Pickfords is working with the Wonder Plant organization on the Spekboom Project in order to reduce our carbon foot print emitted by our large fleet which travel the South African roads on a daily basis.
What is the Spekboom Project? The Wonder Plant organization have set a goal to propagate 1 million Spekboom trees so that they can plant 500 000m of hedges at 1000 underprivileged schools in South Africa, enhancing greening, beautification, safety and security, whilst sequestrating 8.2 million tons of CO² from the atmosphere each year.
As we all know, climate change is a global crisis which is very hard to fight. South Africa is the 6th biggest polluter on the planet with a production of 511 million tons of CO2. Transport companies are one of the main contributors to this phenomenon.
The wonder plant
The Spekboom is a succulent tree from South Africa and that has good benefits and an impact on the environment:
10 times more effective at reducing carbon than the entire rain forest
1 tree can remove 8.5 kg of CO2 per year
Only 25ml of water per year to survive
Easily propagated from cuttings
In addition to these marvelous benefits to the environment, the Spekboom Project will also help the economically disadvantaged:
The plants are raised in micro-nurseries by people living in the townships. Thus, this project empowers impoverished people by offering them the opportunity to become entrepreneurs and giving them the tools to run their own micro-nursery businesses.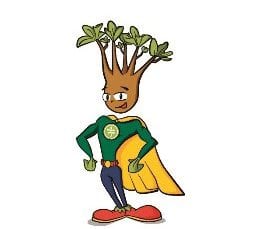 As a result, this project will help to decrease the unemployment rate in South Africa, which is around 25% at the moment.
The Wonder Plant organization has created Captain Wonder Plant to introduce the wonders of Spekboom, as well as promote environmental awareness in underprivileged schools. It is a known fact that when the plant reaches its full growth, it is so thick that you cannot go through it – forming a natural fence. Spekboom thus has the potential to deliver a better and safer place for children to play and grow.
The role of Pickfords in this project
As a responsible company, conscious of the impact that transportation has on the environment, Pickfords made the decision to help the Wonder Plant organization in this endeavor. By the end of the year, we aim to plant 500 000m of hedges across South Africa's impoverished schools and local businesses. Pickfords wants what is best for our children as well as the environment, and we are glad to be part of this project.
We strongly encourage our customers to help the Heart Foundation by purchasing a Spekboom tree. This is a small act that can make a big change.
"The best time to plant a tree was 20 years ago. The next best time is now."
– The Wonder Plant Organization
Should you wish to support this cause, please visit their website at www.wonderplant.co.za
or contact Mandy at 082 807 9165.