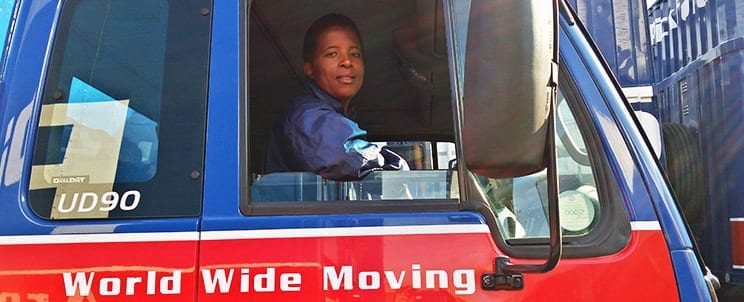 Proving the success of the brand's training programme in Gauteng, Pickfords recently appointed one of its in-house training school's first black female graduates as a supervisor/truck driver. With female truck drivers still scarce in the removals industry, we celebrate Caroline Nevhutalu's tenacity.
In Pickfords' previous newsletter we featured the establishment of the brand's new in-house training school in Gauteng, opened in August, and we are now proud to introduce you to one of the school's early success stories: 36 year-old Caroline Nevhutalu.
After matriculating and studying further towards a Diploma in Management, Caroline obtained a Code 10 truck driver's licence. Applying to join Pickfords' Johannesburg branch in 2014, she received training through Pickfords' new training school and was appointed as a supervisor/truck driver.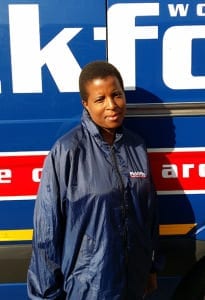 "It is an absolute honour to have the first female supervisor and truck driver for the brand," says Pickfords Johannesburg's branch manager, Vikesh Ramdhin. "This is a commendable achievement for Caroline and we look forward to mentoring and training Caroline and other deserving employees towards other great achievements within the brand."
Predominantly working within Gauteng on both national and international removals, Caroline is well-supported on the road by her experienced team of two packers and one loader, and has also been warmly welcomed with practical advice from Pickfords' Johannesburg's staff.
According to Vikesh all Pickfords staff – including Caroline – receive on-going training through the school every two to three weeks, with both theory and practical training on-site.
"I feel privileged to be the first female driver at Pickfords: I feel like a ground-breaker for other women who want to enter this industry, as this is a male-dominated industry," says Caroline. "I am proud to represent Pickfords and hope to see more women joining this industry."
Thanks Caroline, we're proud of you too and look forward to profiling the other women employees you have inspired in future newsletters!