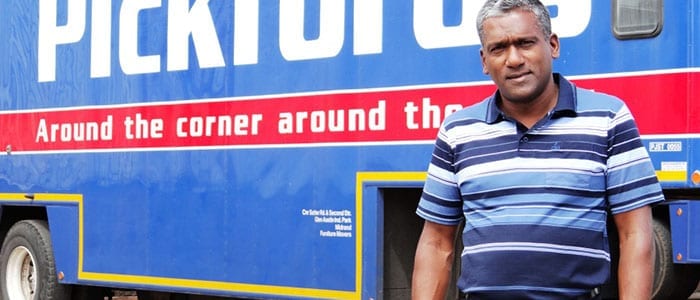 Building on Pickfords' 100-year heritage in South Africa are dynamic staff guided by client-centric managers. Pickfords' Ravi Naik shares his insights into the brand.
Since joining Pickfords as the manager of the brand's Durban branch in 2004, Ravi Naik's innovative approach to the removal business first saw him appointed as Pickfords' South African Brand General Manager, and later taking the helm of Pickfords' branch in Johannesburg.
"I think my biggest success in Pickfords as a whole has been working with people from ground-level to the highest level, and growing people from ground-level and bringing them into management," Ravi explains. "I strongly believe in training and coaching young people, having employed a lot of younger employees who have also grown with the company."
This view is understandable, given Ravi's personal growth through the removal industry. He entered at ground-level himself – first hired to pack and carry boxes and drive removal trucks – before completing training courses in everything from sales to human relations, managing claims at his branch and working as the deputy branch manager.
Ravi describes his management style as 'consultative', underscored by favouring interaction over the isolation of a prestigious corner office. Rather, Ravi's desk is right in the heart of Pickfords' open-plan office, surrounded by staff.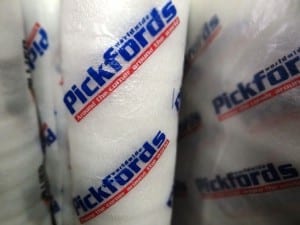 "Although we have monthly staff meetings, we also have meetings all day, every day – I sit with staff so we interact all the time. If there's something that we need to deal with we'll deal with it there-and-then: we don't wait for a once-a-week or once-a-month meeting to thrash it out, because it's too late by then," Ravi elaborates. Under his hand, staff numbers at Pickfords Johannesburg have doubled, with an important addition being the dedicated National Corporate Division he was tasked with establishing.
When sales staff approach new corporate clients, Ravi is happy to accompany them – providing new clients with personalised attention and peace of mind, backed up with his cellphone number. By the same token, Ravi has no personal assistant to screen his calls at the office, preferring to answer them all himself.
Another Pickfords Johannesburg initiative is the branch's new Move Coordination Department, which sees Pickfords in South Africa controlling shipments from anywhere in the world to South Africa, or between two foreign countries directly. Ravi has earmarked this as one of 2014's growth opportunities for the Johannesburg branch, with this year also seeing the formation of a Central Shipping Department for Pickfords to manage all South African inbound and outbound shipments.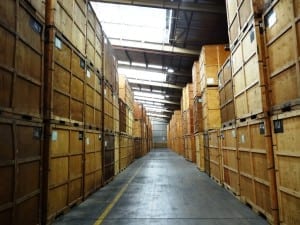 Pickfords customers also benefit from Ravi's experimentation with innovative packaging. Drawing from his experience managing the Durban branch's claims, he now works with packaging suppliers on the design and manufacture of new solutions – including a custom-made bicycle carton, a protective carton for flat-screen televisions, and environmentally-friendly recyclable aerothene wrapping (an improvement over conventional bubble-wrap).
All of these new service offerings underline what Ravi sees as Pickfords' ultimate brand promise: in his words, 'world-class service at the best possible price'. "We are unique in what we do at Pickfords," he reflects. "We develop: I'm always prepared to try. You try something different and expect a new result – that's the way to go."
A Move To Remember: Ravi Naik in action
Of all of Ravi's recollection, one particular challenge rises to the forefront: while still at Pickfords Durban in 2010, Ravi was appointed Project Director to manage the seamless removal of Durban's International Airport from Prospecton to its current 'King Shaka' location.
In an operation run with clockwork precision, half of Pickfords' Durban fleet of trucks were occupied with moving all the airport's administrative offices and numerous sales operations to the new site, while leaving behind fully-functional satellite operations of each at the old site.
"The last month was painstaking, because you had to be there for long hours: we used to start at 06:00 in the morning and finish at 22:00 at night," recalls Ravi. "On the last day all the satellite bits and pieces had to be transported before midnight to the new site, ready for the first flight at 04:00 out of King Shaka. We made it, and got a lovely letter from ACSA!"