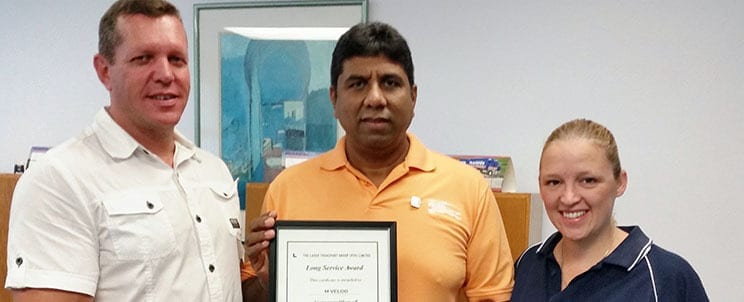 Pickfords' Durban branch recently thanked its Operations Manager, Alex Veloo, for his 10 years of service to the company. We spoke to Alex about what it takes to be successful in operations.
Alex's decade within the high-pressure world of an operations department would already be admirable, but in fact he's worked within removals operations for 99% of his professional career: 27 years and counting!
Drawn into the removals industry at the age of 21 through marriage, Alex started off as a Packing Material Controller for a removals company in Durban, and within three months was promoted to Operations Clerk, working on manifests and job cards.
It was here that Alex worked alongside somebody else who would be integral to Pickfords' future: Ravi Naik, Pickfords' former Brand Manager and currently a director for the Group. When Ravi joined Pickfords he invited Alex to join him, and the powerful operations team they created formed the beating heart of Pickfords' Durban branch.
Considering that Alex reveals that he regularly works from as early as 06:00 until as late as 21:00 at month end, it's fortunate that his wife is very supportive – she also works in the removals industry, and understands its unique job requirements!
Going above and beyond
Frequently Alex will even work over weekends, to pre-plan if Pickfords trucks are arriving into Durban from other branches. "You don't want to have a problem on Monday morning," he says. "When there's work to be done I'm here to do the work."
Pressure is something that Alex consistently minimises through his meticulous planning. "Planning is the most important thing – you can't just come in at the last minute to brain-storm," he explains. "Communication with your team is also vital. Like my one manager used to say, 'Communication is the breakfast of champions.'"
More than just managing Pickfords' vehicle fleet and optimising their loads, however, Alex stresses that he always focuses on people: "You can know the business, but as a manager you need to also have a way to handle your staff – firmly and fairly – so that they are motivated to give their very best service."
Pickfords thanks Alex for his commitment to delivering on Pickfords' promises to clients, and we look forward with him to what the next ten years hold!