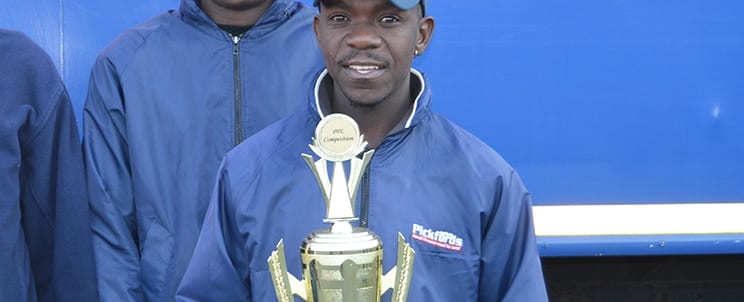 Not to be outdone by Pickfords Port Elizabeth's stellar performance in this year's Packer, Porter, Loader industry competition, Pickfords Johannesburg's team has also returned award-winning performances at both team and individual levels.
In our previous newsletter we profiled the Pickfords Port Elizabeth competition team – who placed first in the PMA's Eastern Cape regional competition for the sixth time.
The team from Pickfords Johannesburg achieved the same feat in their regional competition, although it was particularly special for them as it was their first time being named the Best Moving Team of the Northern Region!
Their victory comes as little surprise, however, judging by their rich experience with Pickfords:
Supervisor – Steven Sibiya
(Worked 13 Years for Pickfords)
Packer – Mpho Mbonjwa
(Worked 11 years for Pickfords)
Loader – Hendrick Mosoane
(Worked 3 years for Pickfords)
Porter – Clifford Makwena
(Worked 3 years for Pickfords)
"This is a true reflection of the very high standard maintained at Pickfords Johannesburg," explains Branch Manager Vikesh Ramdhin.
"The team displayed an absolutely high level of quality and teamwork on the day of the competition, as they do on the all the moves they carry out daily. With continuous training and mentoring the results certainly show!"
UPDATE: PMA National Round
In 2015's national round for the Packer, Porter, Loader Competition, winning teams from the regional level were split to compete individually based on their areas of specialisation, and also combined with other brands to represent their region collectively.
Two participants from Pickfords Johannesburg represented South Africa's Northern Region at the national competition: Steven Sibiya achieved a second place finish in his Supervisor category; while Hendrick Mosoane came third in the Loader competition.
Pickfords Port Elizabeth also continued their winning form, with Bramley Madodonke placing third in his individual 'Best Porter' competition at a national level; while a combined team representing the Eastern Cape with Bramley and fellow Pickfords PE employee Magdalene King came 3rd overall in the 'Best Team' national competition.
Well done to all Pickfords staff who competed, and good luck with your preparations for 2016's competition!