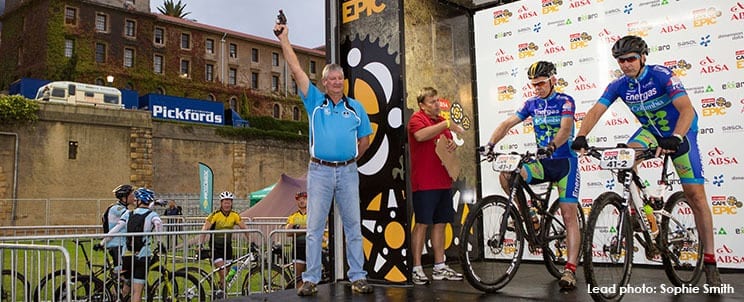 While the entrants to the 2015 Absa Cape Epic were focused on the race ahead, the staff of Pickfords' Cape Town branch were already midway through their very own epic challenge. Branch Manager Francois Marais discusses the hands-on role Pickfords played in supporting entrants this year.
After having already supported the Absa Cape Epic for the past five years, in 2015 Pickfords extended their involvement by transferring hundreds of the mountain bikes between key locations at the start of the race.
Starting at 05:30 on the Saturday before the Epic's Prologue event, Pickfords' trucks lined up at the V&A Waterfront and after registration the last of 300 bikes were loaded by 20:00. Pickfords' team still weren't done, however: after the trucks were driven to the University of Cape Town, the bikes had to all be offloaded that same evening to be ready for the start on Sunday morning.
As the teams completed the Prologue on Sunday, Pickfords' staff repeated their heroic achievement – only this time the number of bikes had swelled to 500, and they had to be transported all the way from UCT to the start of the Epic's Stage 1 at Elgin, Oak Valley.
"These bikes also had to be offloaded on the Sunday night, so that the cyclists could start Stage 1 on the Monday morning," explains Francois. "We sent 12 guys from Pickfords Cape Town, who assisted with the receiving – checking the bikes and loading the vehicles – as safe as we possibly could."
Continuing its sponsorship from previous years, Pickfords Cape Town also provided a modified Pickfords shipping container for use as a mobile control centre by Absa Cape Epic's race administrators.
Francois reveals that Pickfords Cape Town is committed to support the Absa Cape Epic again in 2016, and the branch has ambitious plans for the future.
"When I first met with the Epic team to discuss our involvement for the 2015 event, I told them that we will supply five trucks this year and see how things go," he explains.
"During the Epic, I had a look at where we can improve and add more value to the Epic … and get more and more involved as the time goes by. Maybe one day, we as Pickfords can enter a team?"