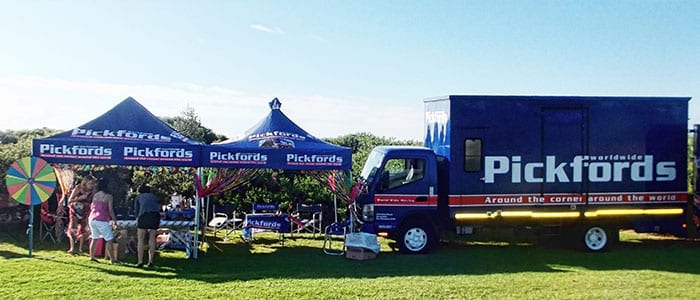 When Pickfords' Port Elizabeth branch participated in the Radio Algoa Charity Golf Day, it not only benefited the Masifunde Learner Development NPO, but the Pickfords-sponsored four-ball also took first prize for 'Best Score'!
With a theme of 'Rio Carnival', the charity golf day saw corporates in the Eastern Cape joining hands in a spot of friendly competition for a good cause. Visitors to Pickfords' stand enjoyed it wholeheartedly – so much so that one participant's enthusiastic spin of the Wheel of Fortune almost saw it take its own trip around the golf course.
"We are so proud to have shown our support for a charity that brings education and the required tools to individuals that are less privileged. It is important that we invest in the future of our great country," says Anthony Du Plessis, Pickfords Port Elizabeth's Branch Manager.
"We look forward to seeing you at the next event. In the meantime, we are always ready and able to assist you with any relocation, be it domestic, office, a staff member or personally, that you require assistance with. Don't leave anything to chance; give us a call for the best service you have ever experienced!"