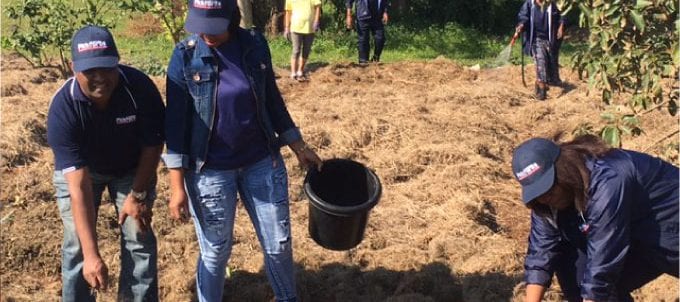 The Pickfords Durban team has recently volunteered at the Mother of Peace's Organic Garden and Food Forest in Illovo, Kwazulu Natal. The Mother of Peace, a non-profit organisation that cares for children who have been abandoned, orphaned or abused, has based the garden on the principles of permaculture.
Derived from the words 'permanent' and 'agriculture', the concept of permaculture involves the development of agricultural ecosystems intended to be sustainable and self-sufficient. Volunteers, including the Pickfords team, have planted nut trees, cabbage, turnips, watermelons, naartjies, avocados, litchis and many other produce.
The project is also aimed at educating locals on sustainability. The organisation lies in a valley with an unemployment rate of over 70% in the area, and the NGO aims to offer workshops to the local residents on food security and sustainability.
For Mandela Day the Pickfords Durban team assisted with the very impressive garden, toured the facility and learned about the area, the people and children from Mother of Peace. Pickfords Durban also donated furniture to the organisation.