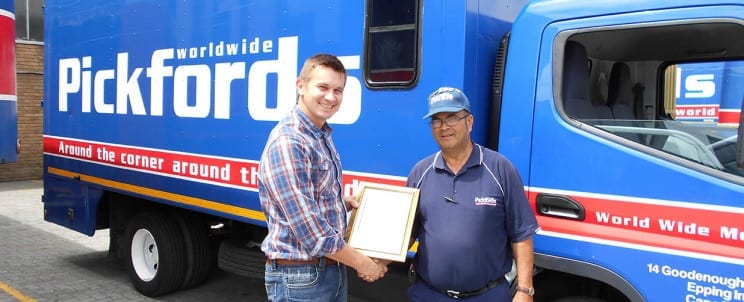 We are extremely proud of the dynamic staff who embody 'Team Pickfords', and our Cape Town branch recently thanked John van Niekerk for his 35 years of total dedication to the company.
I love what I do, and the place where I work," says John, reflecting on his service award. "I am proud to come to work and that is why I do not even know it is 35 years: I wake up every morning doing what "I love to do so it has not felt that long to me!"
John started working for Pickfords in 1980, and is still working with the same enthusiasm as when he first started.
"Receiving this award made me realise how long I have worked for Pickfords. In today's life people do not stick to one company for so long but I have never had the need to move between companies because I have only been happy in what I am doing and proud of my work," he adds. "If you enjoy your work, you will not see it as work but rather as going to the playground every day!"
John (better known as Johnny) is 56 and holds another impressive service record: he has been married for 25 years. His five children, of whom he is extremely proud, have been his motivation in succeeding in his working environment; knowing that as a result of his hard work he could ensure that they were properly educated.
Life from the driver's seat
John started his career being trained as a Packer and later a Loader. "My dream was always to drive one of the Pickfords vehicles and thanks to management I achieved that dream many years back," he recalls.
Pickfords helped John to reach this dream by assisting him in obtaining his license, and since 1999 he has been a Driver/Supervisor for the company.
Some of the big names he helped relocate include Gé Korsten and Bryan Habana. "The part that I enjoy the most is probably not just meeting new or famous people every day but also travelling to and seeing new places. When I am on the road it is also the time when I think and realise what we can be thankful for," he adds.
The most memorable moments for John have been travelling to Zimbabwe and Windhoek, and he mentions that the challenge of driving through so many different terrains always keeps him on his toes.
John thanks God for helping him through the years, and Pickfords for supporting him and making it possible for him to be where he is today. Likewise, we take great pleasure in thanking John for his determination and hard work through the years!
"It has been an honour working with Johnny and he is the best example for me and the staff he works with," says Pickfords Cape Town's Branch Manager, Francois Marais.
"When I think of Johnny the quote of Jessica Guidobono comes to mind: 'Every job is a self-portrait of the person who did it. Autograph your work with excellence.'   Thank you Johnny for your autograph on Pickfords for 35 years!"