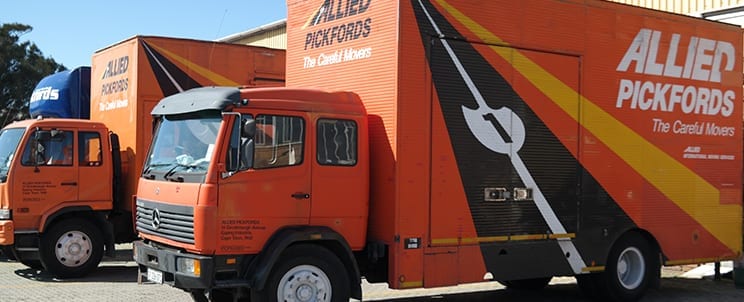 In South Africa, Pickfords is well-known for its iconic royal blue and red trucks – but sometimes they magically turn orange. We explain why.
Considering Pickfords' vast network of 17 locations across South Africa today, it's interesting to note that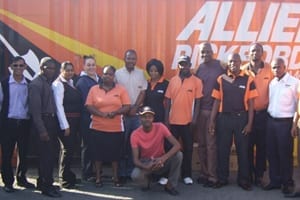 the original Pickfords business was started by an English farmer in 1646.
Displaying remarkable strength, the Pickfords brand name has continued over centuries, resulting in various companies internationally still using the name today.
Most of these are part of the unique Allied Pickfords network: one of the world's largest and most respected international removal organisations, comprising 600 locations in more than 45 countries!
Why Pickfords turns orange

According to the Central Shipping Manager at Pickfords Johannesburg, Suresh Daniel, when transporting goods on behalf of an Allied Pickfords network partner his team will be sure to send the bright orange trucks where possible, instead of the royal blue ones.
While Pickfords in South Africa uses its own branches for domestic services, Suresh cooperates with other Allied branches for services worldwide, and is the company's go-to guy for all international removals involving Allied partners.
"My department handles all of Pickfords' shipments to and from South Africa, which includes booking containers, organising the loading, and compiling and forwarding all documentation for customs clearance," he explains.
In addition, Suresh and his team are both the clients' and the network partners' dedicated contacts.
Benefiting Pickfords' clients
To Suresh, the Allied Pickfords network is an invaluable resource to the company and a great advantage to its customers.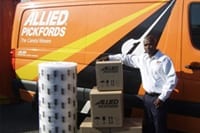 "Our clients can rest assured that their goods will arrive safely at destination because our partners adhere to our high service levels," says Suresh. "Cost-saving is also an important point: the agreed-on rates are extremely competitive, which saves our clients money."
Whether blue or bright orange trucks, rest assured that the teams arriving in them will deliver services according to Pickfords' trusted quality standards and processes!
For more information on moving internationally with Pickfords South Africa, please click here.